Bioptron Light Therapy is a cutting edge treatment in preventive therapy, curative therapy and rehabilitation, with no known side effects. It is an effective alternative to drugs that, while being the standard treatment for wounds, injuries and pain, often have associated side effects.
We regularly use Bioptron Light Therapy in our practice to support our massage work.
We also have units available for hire and sale.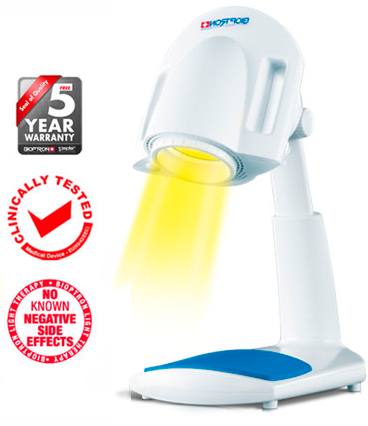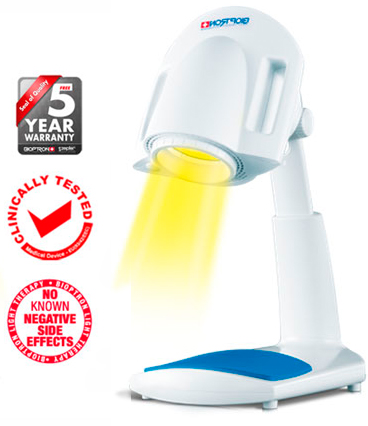 For Pain & Accelerated Healing
Effective Pain Treatment
In the area of pain management, BIOPTRON Light Therapy is effectively used as monotherapy and/or complementary therapy for the following conditions:
•  Rheumatology – osteoarthritis, rheumatoid arthritis (chronic), arthroses
•  Physiotherapy – low back, shoulder and neck pain, carpal tunnel syndrome, scar tissue, musculoskeletal injuries
•  Sports Medicine – soft tissue injuries of muscles, tendons and ligaments, muscle spasm, sprains and strains, contusions, tendonitis, desmorrhexis and myothexis
Accelerated Healing Times
Accelerates the healing (up to one third of the usual time) of a wide range of wounds including: surgical wounds, wounds from a trauma or injury, burns, leg ulcers and pressure sores.
Biostimulative Effects
When applied to the skin, BIOPTRON Light stimulates light sensitive intracellular structures and biomolecules and can help to:
•  Improve microcirculation
•  Reinforce the body's defence system
•  Support the regenerative and reparative processes of the entire body
•  Promote wound healing
•  Relieve pain or decrease its intensity
•  Harmonise metabolic processes
Wide Range of Applications
BIOPTRON Light Therapy can be used by medical professionals in hospitals, clinics and universities as well as by home users and patients themselves in a wide range of applications. It can be used as a complementary treatment to support conventional medical methods and as a monotherapy for specific conditions.
BIOPTRON Light Therapy is used worldwide for wound healing and pain management in many applications: General Medicine, Surgery, Rheumatology, Physiotherapy, Dermatology, Geriatric Medicine and Sports Medicine.
Suitable for Pets
The BIOPTRON can be used to treat your pet for:
•  New and old injuries
•  Muscle, tendon and bone injuries
•  Foot ailments and abscesses
•  Stiff inflamed joints
•  Wounds and scar tissue
•  Viral infections
•  Kennel cough and cat flu
» APPROVED MEDICAL DEVICE
Developed and produced in Switzerland by BIOPTRON AG. The technology is endorsed and used by leading physicians in major universities and clinics across five continents.
» CLINICALLY PROVEN RESULTS
BIOPTRON Light Therapy has conclusive, clinically proven therapeutic results, including significantly reduced healing times (up to one third of the usual time).
BIOPTRON Light Treatments
Safe, Non Invasive & Pain-free
BIOPTRON Light Therapy is applied externally to the skin and operates safely in the light spectrum range of 480 – 3400nm, thus there is NO UV radiation
Mobile & Maintenance Free
The device is mobile, easily managed and maintenance free.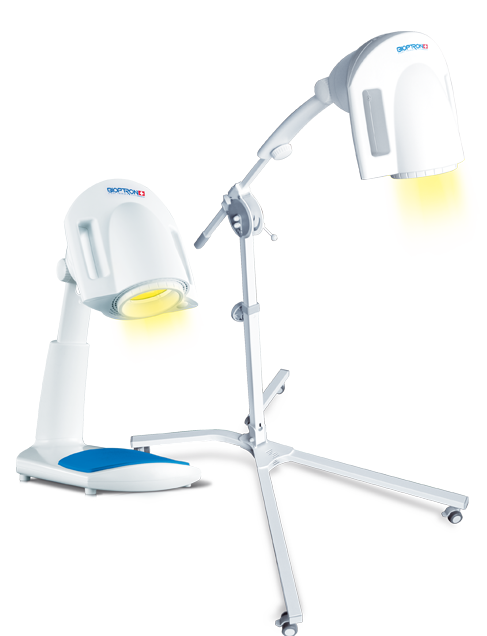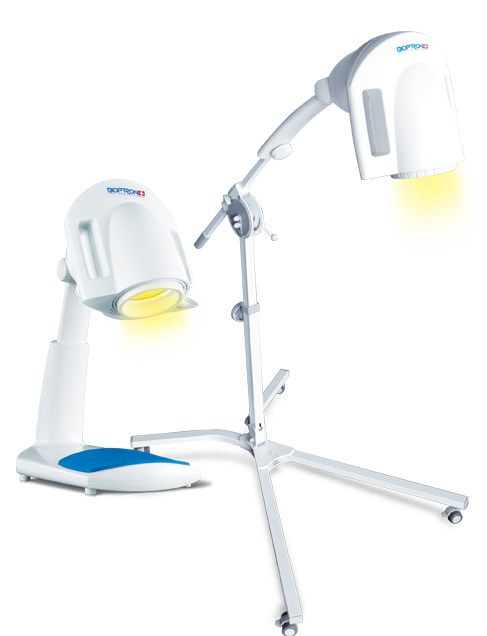 Short, Easy Treatments
Quick and easy application (no special skills or training required) – BIOPTRON Light Therapy treatment is typically 10-20 minutes once or twice a day
No Known Side Effects
The BIOPTRON Light does not emit UV radiation and has no known negative side effects.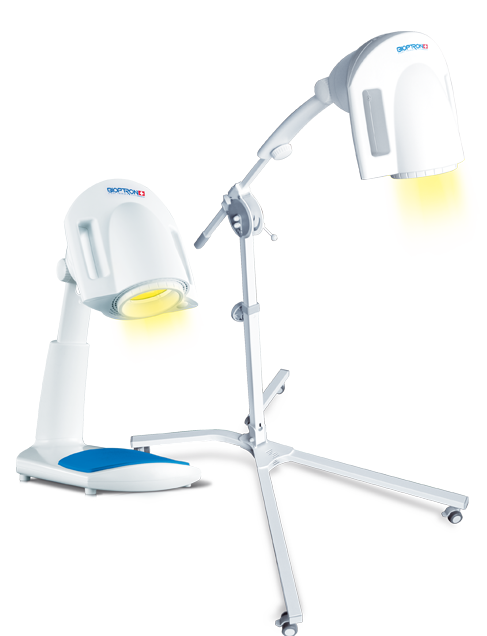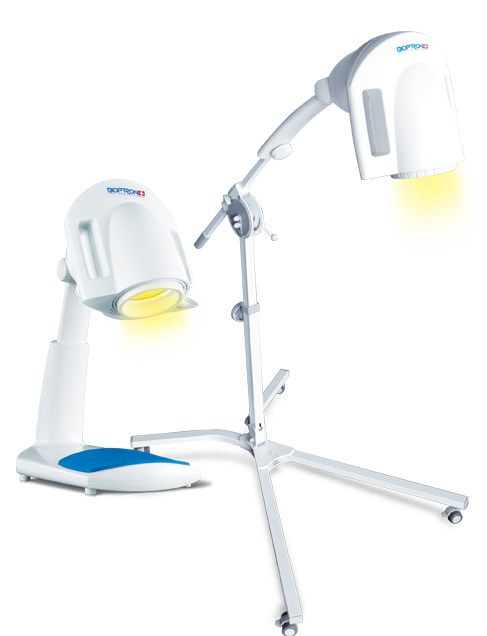 The BIOPTRON Pro 1 Light Therapy device is designed for use at home, in hospitals and therapeutic centres. The device is available either with a functional floor stand and/or an ergonomic table stand allowing flexible use in domestic and professional environments. Easily adjustable height and head inclination as well as the ability to rotate the device head up to 360° allow a convenient usage for nearly any position. Treatments can easily be timed by a control panel down to 30 seconds. An integrated distance rod ensures the recommended distance to the skin surface area. The filter diameter of BIOPTRON Pro 1 (approx. 11 cm) allows the treatment of small as well as bigger areas.
Treatment area approx 11cm
Treatment time typically 10-20 minutes once or twice a day
Wavelength 480 – 3400 nm (no UV radiation)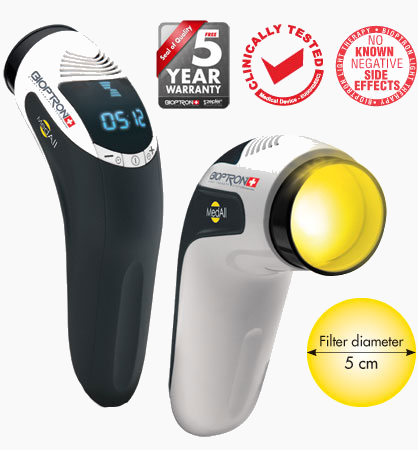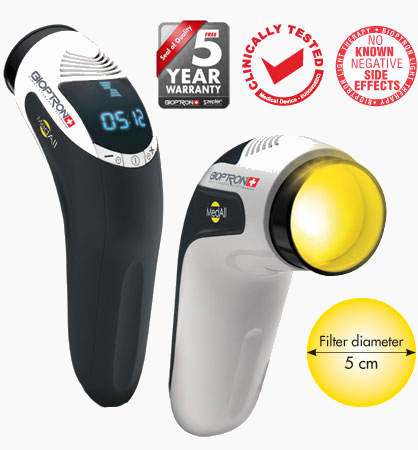 The BIOPTRON MedAll is designed for use at home, in hospitals, sports & wellness centers and in therapeutic clinics. Small yet powerful, the Swiss-­made medical light system is clinically proven and certified across the world, for faster healing and pain relief of numerous medical conditions. The device comes in a handy plastic case for smart storage and easy and safe transport. The filter diameter treatment area of BIOPTRON MedAll is approximately 5cm. The 100% safe spectrum of BIOPTRON polychromatic light does not contain any UV radiation. There is also a floor stand available for convenient positioning to meet all individual needs.
Treatment area approx 5cm
Treatment time typically 10-20 minutes once or twice a day
Wavelength 480 – 3400 nm
Colour Therapy is a way of using colours and light to balance and enhance our energy in order to keep our body, mind and spirit in a state of health, wellness and harmony.
Re-energise & Re-balance
Colour is pure vibration and can increase or decrease our energy.
Colour Therapy must not be expected to replace conventional medical treatments for every pathology, but when you need to re-energise and re-balance your mind and body, colour therapy is a very effective healing method.
BIOPTRON Colour Therapy is a way of using colours to enhance and restore our body's energy. Colour Therapy works on a holistic level – on mind, body and spirit – by addressing the origin of the health problem (dis-ease), and it helps to stimulate the process of self-healing. It can be used for balancing our energies in order to prevent possible problems.
A widely accepted use of Colour Therapy is in the Northern Hemisphere in Winter. The lack of sunshine can adversely affect feelings of well being, with people suffering from feeling depressed and low. Colour Therapy is used to counteract this.
7 Colour Filters
There are 7 colour filters in the kit: indigo, violet, blue, green, yellow, orange and red – each colour has a particular frequency in the visible light spectrum. The filters are handmade in France at the Verrerie de St-Just where traditionally blown glass stands out for its powerful brilliance and higher transparency. Each colour is associated with one of the seven chakras where concentrated energy centres have been shown to exist.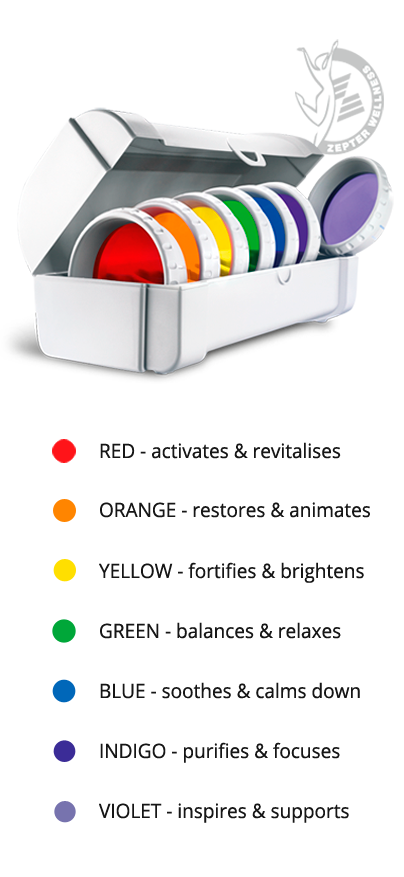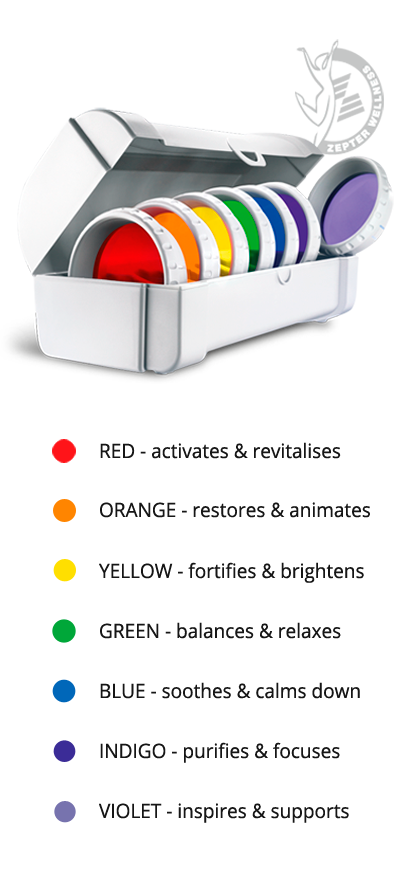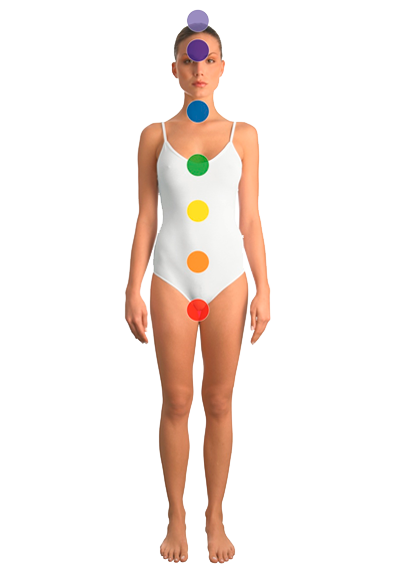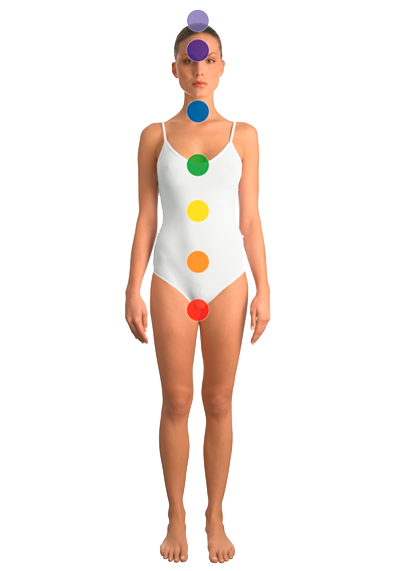 BIOPTRON Light Specifications
BIOPTRON Light
BIOPTRON Light is polarised, polychromatic, incoherent and low energy and operates in the range 480-3400Nm, EXCLUSIVE of the Ultra Violet spectrum. It is not laser therapy which can be dangerous when not used correctly. The specific power density of BIOPTRON Light is 40mW/cm2 at a treatment distance of 10cm. This is equivalent to an energy density (fluency) of an average of 2.4J/cm2 per minute. These properties allow BIOPTRON Light to penetrate the surface of the skin with minimal heating effect, no damage to skin, and no known side effects.
Light Specifications
Wavelength 480 – 3400 nm
Degree of polaristaion >95% (590 – 1550 nm)
Specific power density av. 40 mW/cm2
Light energy per minute av. 2.4 J/cm2
Light Intensity min. 10.000 lux
Mechanisms of Action
The main mechanisms of the action of light therapy are:
• Stimulation of neoangiogenesis, improvement of microcirculation
• Increasing the process of phagocytosis
• Stimulation and activation of ATP production
• Enhancement of important specific enzymes involved in cell regeneration
• Increasing the activity of the lymphatic system
• Activation of fibroblast activity and increasing the production of collagen
• Increasing DNA and RNA production
• Reducing the excitability of nervous tissue and increasing muscle relaxation
If you would like further information about the BIOPTRON Light Therapy system or would like to arrange an appointment for a treatment or to see one, please call Peter Baillieu on 0437 341 294.